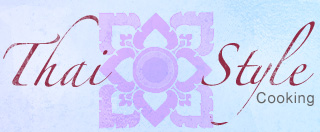 Homemade Thai Food
Shop : Cook : Eat : Thai

Private Thai Cookery Course
Brighton & Hove
The course is spread out over 6 lessons of 2-3 hours each. The course will teach you many aspects of Thai cookery, including; how to make different types of traditional dishes, Thai ingredients, vegetables, spices, herbs, sauces, learning how to choose what dishes you would make for your perfect Thai dinner, learning the ways of eating Thai food, setting the table Thai style, and table manners.
6 lessons teach you essential Thai cooking skills and popular dishes
Lessons and times can be booked at your convenience. Vegetarian options are also available. Prices not including the cost of ingredients require you to shop and bring the ingredients for each lesson. I will however provide you a shopping list and meet you at a local Asian food market for the first lesson to show you what is good to buy in the future.
"Jiab understood Thai food. She modified the content of the lessons to suit me personally. The ingredients were top quality and the food delicious. I especially liked the lesson when we went shopping to learn where and how to buy the genuine Thai ingredients. I enjoyed the method of learning by working in parallel and each preparing half of the dish. I plan to do more lessons next year after visiting Thailand" Ann 2014
Price (NOT including ingredients)
One Person £370  |  Two People £480 (£240 pp)  |  Three people £675 (£225 pp)
Price (Including ingredients)
One Person £485  |  Two People £650 (£325 pp)  |  Three people £900 (£300 pp)
Lesson 1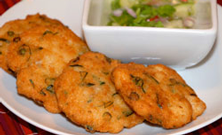 Thai Starters or Snacks The first lesson you will learn how to make two starters – Fish Cakes, Chicken Satay or Spring Rolls. Learn about the ingredients, dipping sauces and herbs.
Lesson 2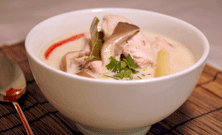 Thai Soups : Learn how to make Tom Yam, Tom Kha, and Thai Style stock soup. Tom Yam and Tom Kha are similar dishes, just different ingredients. Also learn about the ingredients and how to make a Thai style broth, using it to make the soups.
Lesson 3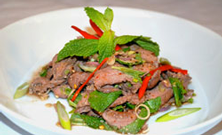 Thai Salads In this lesson you will learn how to make Green Papaya Salad, Spicy Grilled Beef Salad, and Mung Bean Noodles Salad. Learning all the different methods, the herbs in it and why they are so healthy for you.
Lesson 4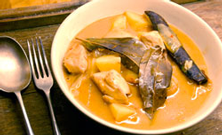 The Art of Thai Curries & Thai Herbs In this lesson you will learn how to make Green curry or Red curry, and Panang Curry or Massaman Curry from scratch. Learn the fundamentals of how to make curry pastes, about herbs and the ingredients.
Lesson 5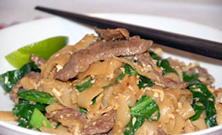 Thai Stir Fried Dishes In this lesson you will learn how to make Pad Thai, Stir Fried Meat with Chillies & Basil, and Fried Rice. Thai Stir Fries easy to learn and quick to make. You will learn about the methods of cooking Stir Fries, the ingredients, sauces and herbs.
Lesson 6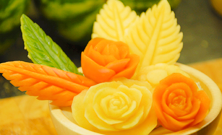 Two Dishes of Your Choice : The last lesson you can learn to cook 2 dishes of your choice from my menu. (a small surcharge may be added depending on the extra 2 dishes you choose to learn during this lesson only)